Introduction
When adding an IPv6 IP range to your WHM/cPanel server, you will want to reserve some IPv6 addresses for your cPanel server.
You may need an IPv6 address to serve as the 'Shared Basic IPv6 Address', as well as, using IPv6 for your DNS servers.
Procedure
We will use the following example of an IPv6 Range. Please reach out to your Hosting Provider/ISP for an IPv6 range that can be routed to your server.
Example Range: 2001:db8:1a34:56cf::/64




Reserving three IPs: 2001:db8:1a34:56cf::10/128, 2001:db8:1a34:56cf::11/128, 2001:db8:1a34:56cf::12/128
1. Log into WHM as 'root'.
2. Navigate to the following location: WHM: Home -> IP Functions -> IPv6 Ranges
3. Click the 'Add Range' button.

4. Add any IP address you wish to reserve first, click "Add Range" button when complete
Repeat for more individual IPs, or add an IP range to exclude. Note, you must use the IPv6 CIDR Subnet so if you're trying to reserve just a single IPv6 IP address, you need to add /128 at the end just like you can see in the screenshot.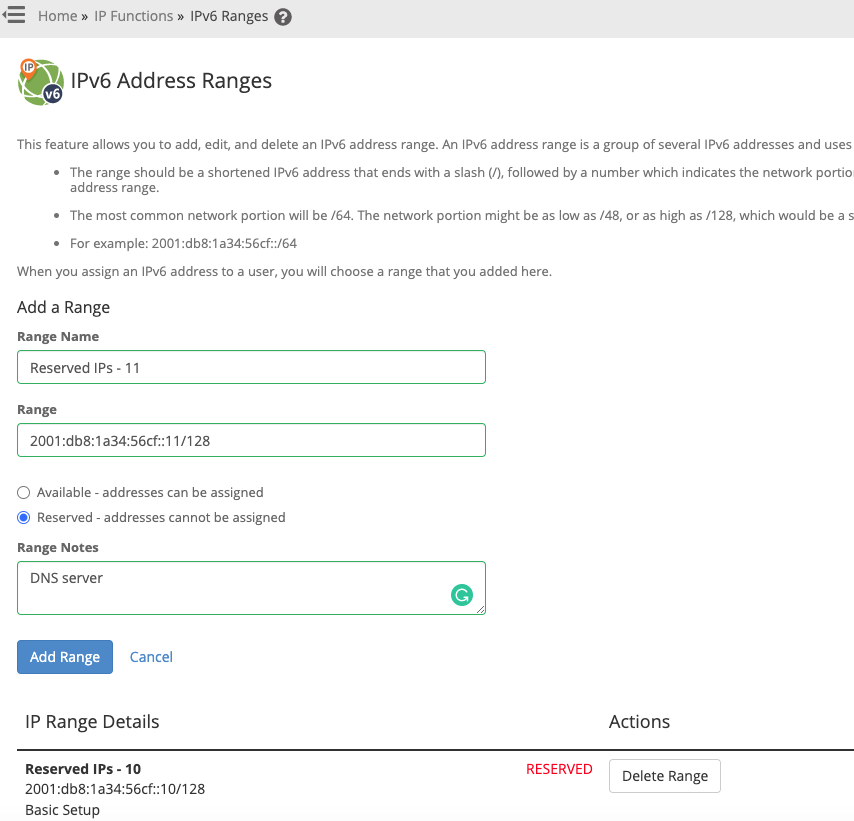 5. Once you have reserved the IPs you need, add the full complete range, click "Add Range" button

6. When complete, you will see them all at the bottom of the WHM interface page

Please be aware, IPs must be reserved before the full range is added. Otherwise, the range must be removed to complete the above steps.
At this point, you can use the reserved IPs as the 'Basic Shared IPv6 Address'.
WHM: Home »Server Configuration »Basic WebHost Manager® Setup --> Basic Setup Tab