Introduction
Sometimes it may be necessary to enable or disable services such as IMAP or Exim. This is possible via WHM.
Procedure
1) First, navigate to service manager in WHM. (WHM >> Service Configuration >> Service Manager)
2) From here, you can uncheck the service in question from the left-hand column to disable the service, or check it to enable the service. Then from the right-hand column you can also enable or disable monitoring for this service.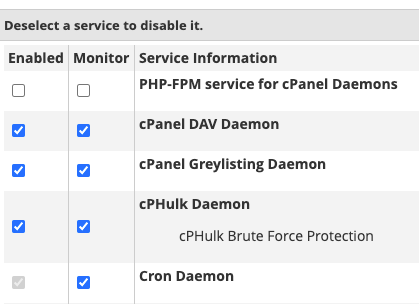 3) You can then scroll to the bottom and save.

For more information on service manager, see our documentation here.
https://docs.cpanel.net/whm/service-configuration/service-manager/