Introduction
While it is no longer possible to rename a database within the MySQL service, the cPanel account interface can make this change for you. This article discusses the steps necessary to accomplish this.
Procedure
To rename a database, you will need to login to the cPanel interface as the account user that controls the database. Once logged in, you will need to perform the following steps.
1. Navigate to the MySQL® Databases interface under the Databases section.

2. Inside this interface click the Rename link next to the database you wish to change.

3. Inside the window this opens, type in the new database name that will be used and click the Proceed button to make the change.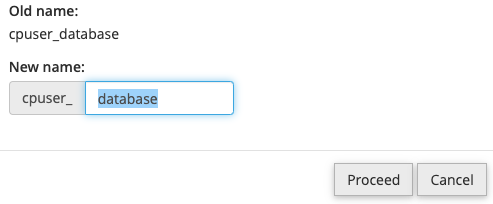 For additional details, see the following documentation link.