Introduction
The new Live Transfer feature will be enabled by default when transferring between cPanel installs running v90 or greater. You may need to disable this option as this feature should only be used if the source server controls the authoritative name servers for the domain.
Procedure
When selecting an account to be transferred in the WHM interface Transfer Tool, you can click the dropdown next to the account to expand the account's transfer options. To disable Live Transfer, you will need to toggle the switch from Enabled to Disabled.

If you need to disable the Live Transfer feature for all accounts that are being transferred, then you will need to use the select all checkbox in the upper left of the account selection section. To ensure that you select all accounts and not just the ones on the current page view, be sure to open the dropdown box and select the All option.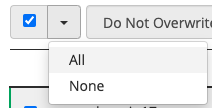 Once all accounts have been selected, you can apply the configuration of the account that is currently expanded in the dropdown by clicking the button labeled "apply to other selected accounts".