Introduction
Often at time, mod_security rule sets could be preventing normal web application procedures and requires the rule to be disabled/whitelist.
Procedure
1. Log into WHM as root

2. Select "ModSecurity Tool" under Security Center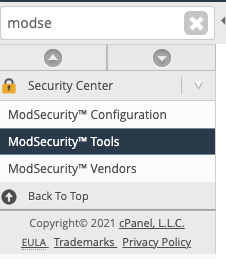 3. Click "Rule List" on the right hand corner

4. Enter the Rule ID, for an example: "33342" and then click the magnifying glass to start the search and click "Disable"

Note: You will be able to locate the Rule ID by checking into your Apache's error log:
/var/log/apache2/error_log